HO'OPONOPONO PRAYER EXPERIENCE
With Dame Doria (DC) CordovaCEO / Owner of Money & You® / Excellerated Business Schools® for Entrepreneurs
My Experience of Morrnah Simeona
By Dame Doria (DC) Cordova
(Foreword of At Zero Book by Joe Vitale)
When Joe Vitale asked me to share my experience of Morrnah Simeona – the magnificent Kanuha Lapa'au ("Priest who heals with words" – "Keeper of the secrets" in Hawaiian folklore), I immediately began to feel a deep peace and sense of lightness that I always felt around her.  She was a magnificent human being that reminded me of my maternal grandmother, Amelia, who raised me in Chile and had unconditional love for me.
Of course, it wouldn't take long to be around Morrnah to know that she was special – very special!  She flowed – nature changed around her – she was always offering assistance with anything that was needed by anyone – she would look at you as if though she saw much more than your physical body.  She was a true healer.
In 1984, she came to live in our sprawling estate in La Jolla Farms Road – a very exclusive area of La Jolla (San Diego County), California.  There were four separate homes in the property – including the cutest little cottage that she stayed in for three months.
After she lived there for a few weeks, every one that would come to the property would ask if we had a new gardener – if we had done something different with the landscaping – everything was so alive, vibrant and beautiful.  Nature itself changed around her – it was an uncanny experience for me in my early 30's when I was just learning about generalized / spiritual principles that have reign the Earth since eternity…
At times when I used to return from Money & You tours, she used to give me special advanced Ho'oponopono treatments to clear my energy.  After, I'd feel like I had taken a shower.  It was truly divine.  She was constantly encouraging me to keep my energy clear by doing the process and uttering the word Ho'oponopono…
Morrnah was definitely special…
She was from a line of Kahunas – and chose to modernize the Ho'oponopono process (part of the ancient teachings of Hawaiian Huna) to help human beings become free from traumas and dramas that are held in the subconscious and affect every moment of our lives… a very powerful process.
Morrnah's decision to open up the "secret" that had been closely held by Hawaiians for many generations, did not make her very popular in certain circles – ostracized in some – but then Morrnah was a lover of humanity – a supporter of all human beings to becoming free of unconscious behavior and to support deep "cleaning" of the subconscious.  She was courageous and clear of her purpose: to teach people to free themselves of their own limitations and cut the "aka cords" that had been created through the ages; and to have alignment of the inner family:
The Aumakua:  Au: bathe/swim     Makua: father
(bathed by and in the Holy Spirit)
The Uhane:  Mother (Conscious Mind)
The Unihiipili:  Child (Subconscious Mind)
I learned that just saying the word "Ho'oponopono" clears the space – it cleanses me immediately.
But let me tell you how I first met Morrnah…
My beloved friend that was reared in Hilo, Big Island of Hawaii, Eric Smith, was the person that introduced me to her and the Ho'oponopono class that she was holding, along side Dr. Stan Haleakala (another magnificent human being) in Los Angeles, sometime in 1984 – around November – I couldn't say for sure – but I have the sense that it was during my favorite month of the year – not just because it's my birthday month – but because it's such a beautiful time around the world – Fall in the Northern hemisphere – Spring in the Southern…
It was a very special time – a weekend never to be forgotten.
The class had all kinds of wonderful people, including Hollywood-types, such as the actor, Leslie Ann Warren – most recently featured in the Will & Grace TV show, as Will's father's lover.  She is a lovely person.
It was a fun group – and we definitely bonded during those three days of cleaning / cleansing by cutting those "aka" cords that are created as we get attached to people, places and things. The process requires that we write lists and lists of names of just about everyone you could remember that you had had a relationship with, had had an effect on us; places that we had lived in; vehicles that we had used; situations; those that had hurt us – those we had hurt – every humiliating experience you could think of – all the shame, blame and guilt that you held in your subconscious was encouraged to be written down.
That the space got uncomfortable at moments, would be an understatement!
It was particularly interesting to write the list of persons that one had had sexual contact with – it was then that I got the enormity – the importance of protecting one's energy.  Having sex with someone is the fastest way to pick up not only your partner's energy – but also every person that s/he has ever had sexual contact with – potentially there could be the energy of hundreds of people from the partner that a person is being physically intimate with.. !
She and Stan were excellent teachers – they taught by telling wonderful stories and tales from the many people that they had helped through the years… Too many to share here, but one I found so interesting was that Morrnah loved Tom Selleck, the actor, who in the '80's was the big star of the TV Show Magnum PI which was filmed in Hawaii.
Morrnah was always "cleaning" Tom Selleck –  I had met him in Hawaii a year earlier – and I couldn't help thinking that he was so blessed to have someone like Morrnah constantly cleansing him.  When he went off the spotlight for years to settle for a much quieter life with his new wife and child, I couldn't help thinking if he hadn't been influenced by the Ho'oponopono prayer…  It's nice to see him back on the Blue Bloods TV series…
She shared with us that actors / celebrities / sport stars / politicians – those that are in the public eye – are particularly energetically endangered because of all of the projections that are directed their way – that these people could potentially have millions of aka cords from all the attention, the sexual projections, the positive and negative projections – the thoughts from all those fans which diminish their life force, their personal power and ability to be clear.
Wow, that was pretty intense to hear!  I started wondering if this was the reason why beautiful sex symbols like Marilyn Monroe had such a hard life!
I began to see things very differently… My life changed after that weekend.
I felt like I had taken a "lifelong bath" – that my energy had been cleansed forever – and that it was my responsibility to keep my energy clean and cleansed. I have my "short form" Ho'oponopono process with me constantly. It has been behind my yearly paper calendar of events since the 80's. I scan copies of it and put in my computer, my Ipad and Iphone. We were taught to leave our Ho'oponopono book open in our cars to teach the "car's subconscious" to keep itself cleansed – I can't help thinking that this has worked since I haven't had a car accident (a very small one) since 1976 – Ho'oponopono!
I have done the Ho'opononopo prayer everywhere in the world that I've traveled, except Bali, Indonesia.  I started to do it there and a very strong feeling said "no".  I later learned that the "I" had guided me correctly.  Bali has its own rituals – its own energy.  It's always good to follow our inner guidance.
The last time I spoke to Morrnah was mid-year 1989.  My then business partner, Robert T. Kiyosaki (of Rich Dad/Poor Dad Series) and I had returned to the Big Island of Hawaii to do our Excellerated Business School® for Entrepreneurs to the then Kona Surf Resort (it has now changed hands a couple of times) – a magnificent property next to Keauhou Bay.
I called Morrnah so that she would fly into the Big Island (which we knew she loved) from Oahu, where she was living, and lead the class with the Ho'oponopono prayer.  She said, "Honey, I am too tired… I am not as well as I used to be… you do it."
I was flabbergasted – I was being told by this great Kahuna to lead a public Ho'oponopono process in front of a pretty successful group of entrepreneurs.  I felt a little unsure – and felt tremendous responsibility to lead such a prayer.  She reassured me that the entire area: the bay, the resort, the Big Island, had been "programed" with the prayer and that I had nothing to worry about – that I would do a great job.  I felt peaceful and ready… and I did do a good job – how can you not when doing a Ho'oponopono!
From then on, I led Ho'oponopono Prayers in our classes and beyond.
We got very busy – very successful, and I didn't speak in person with Morrnah again.  A few years later I found out that she had passed on February 11, 1992.  Though I was saddened that I no longer could pick up the phone and speak to her, or have one of her great treatments, nor learn "at her feet", I could still feel her presence – as always.
She is will always be a magnificent force in my life.  I truly feel that her teachings – Dr. Ihaleakala's teachings – the prayer has had a tremendous positive impact in my life and business.
Part of the prayer is the "Peace of I":
Peace be with you, all my Peace.
The Peace that is I, the Peace that is I am,
The Peace for always; now and forever and evermore.
My Peace I give to you, My Peace I leave with you,
Not the world's Peace, but only my Peace,
The Peace of I.
She taught us that when we get in our car, we get in an airplane, a train or any vehicle, to surround it with 300 million of "Peace of I" – I particularly remember this when I get on airplanes – and I sleep soundly.  I know that I am being protected.
I have many "Ho'oponopono" stories to tell – too many for this copy – but rest assured that for the past 36 years, I can honestly say that the Ho'oponopono prayer has been a tremendous guiding (and protecting) force for me.
The word Ho'oponopono is constantly on my lips.  I have used it in happy and sad occasions.  I know that the alignment of my "inner family" is crucial for my peace of mind, for the mental clarity that I need to run a successful global organization, to attract the wonderful business partners that I now have had for decades, the amazing people that teach at our programs, the participants that attend, the fantastic global network that I have – and the love and connection I have with my beloveds.
My success and prosperity have definitely been propelled by hard work and using the sound business and consciousness principles that we teach… and no question that "the wind beneath my wings" is the Ho'oponopono prayer.
I wish you the same…!
To quote the end of the prayer:
May the I continually bless all involved in the Ho'oponopono process.  We are set free and it's done! We are now in the Divine Creator's Embrace… 
Aloha Nui Loa,
Dame Doria (DC) Cordova
CEO / Owner, Excellerated Business Schools® for Entrepreneurs /
Money & You® Program
Feeding the 'Aumakua, painting by Herb Kawainui Kāne
References from Wikipedia:
Kahuna Lapaʻau
Morrnah was born May 19, 1913, in Honolulu, Hawaii, to Kimokeo and Lilia Simeona, both native Hawaiians.[1] Her mother, Lilia, was one of the last recognized kahuna laʻau kahea or priest who heals with words.[2] Morrnah was a practitioner of lomilomi massage and for 10 years owned and operated health spas at the Kahala Hilton and Royal Hawaiian hotels.[3] Among her massage clients at the Hilton spa were Lyndon B. Johnson, Jackie Kennedy and Arnold Palmer.[4] In 1983, she was recognized as a kahuna lapaʻau (healer) and honored as a "Living Treasure of Hawai'i" by the Honpa Hongwanji Mission of Hawai'i.[5]
Hoʻoponopono
Main article: Ho'oponopono
In 1976 she began to modify the traditional Hawaiian forgiveness and reconciliation process of hoʻoponopono to the realities of the modern day. Her version of hoʻoponopono was influenced by her Christian (Protestant and Catholic) education and her philosophical studies about India, China and Edgar Cayce. The combination of Hawaiian traditions, praying to the Divine Creator, and connecting problems with Reincarnation and Karma resulted in a unique new problem solving process, that was self-help rather than the traditional Hawaiian group process. She had no qualms about adapting traditional concepts to contemporary applications, though she was criticized by some Hawaiian purists. "Her system uses hoʻoponopono techniques to create a working partnership among the three parts of the mind or self, which she calls by Hawaiian names, as well as by the terms subconscious, conscious and superconscious."[6]
She presented trainings and lectures on hoʻoponopono to the United Nations,[7] in nearly a dozen states in the U.S., and in more than 14 countries, among them Germany, the Netherlands, Switzerland, France, Russia and Japan.[8] She presented to schools of higher learning, such as the University of Hawaiʻi and Johns Hopkins University, to medical facilities, religious institutions and business organizations.
In 1982 she organized the First World Symposium of Identity of Man.[9] A reporter noted: "There was something very calming and soothing about Simeona's presence and her voice, a sense of serenity about her, as she talks about teaching people how to relieve stress and attain peace of mind."[6]
To spread her hoʻoponopono process, she founded Pacifica Seminars in the 1970s and in 1980 The Foundation of 'I', Inc. (Freedom of the Cosmos). In 1990, she started Pacifica Seminars in Germany. Simeona wrote three textbooks Self-Identity through Hoʻoponopono, Basic 1 (128 pg), Basic 2 (to use after two years of practicing) and Basic 3 (to use after five years). The recommended waiting times for Basic 2 and 3 was for developing deep respect for the "Divine presence." In 1990, the English original of Basic 1, 8th edition, was officially translated and printed in German and French.[10][11]
In late fall 1990, her last journey for lectures and seminars took her through Europe to Jerusalem. On January 16, 1991, she came back to Germany, where she lived quietly at a friend's house in Kirchheim, near Munich, until her death on February 11, 1992.
Statue of Freedom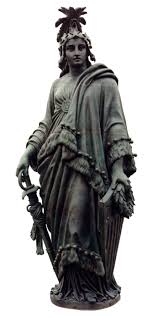 Statue of Freedom's plaster model cast now resides in the Capitol Visitor Center
On March 25, 1992, U. S. Senator Daniel Akaka (D – Hawaii), eulogized Simeona in the Congressional Record.[12] He noted she had learned that the original plaster cast of the cast-iron Statue of Freedom, which stands on the top of the dome of the United States Capitol, was being kept in storage. She raised $25,000 to refurbish and restore it, and as a result it was moved and placed on display in the Russell Senate Office Building (now in the Capitol Visitor Center) where, Akaka said, it would serve as a remembrance of Simeona.[12]